Happy Tuesday! Linking up with
Karli
again for
10 on Tuesday
. Today I am sharing with you 10 of my favorite iPhone apps. These are my go-to's besides all of the social media apps such as
Facebook
,
Instagram
,
Twitter
,
Snapchat
, and
Pinterest
.
This shouldn't be a surprise, but half of these are photo apps...
1 // Manual
- $2.99 // If I am using my iPhone for taking pictures I only use this app. The quality of the pictures are so much better than the standard iPhone camera pictures. Plus, you have some control over the ISO, focus, exposure, shutter speed, white balance and flash.
2 // Afterlight
- $.99 // This is usually the first app I open when editing my photos. I use Afterlight for the brightness and clarifying tools.
3 // VSCO
- free, with in-app purchases // I can't tell you how many times I have downloaded and then deleted this app. At first I hated this app. But every time I read a review on apps this one was always at the top of everyone's list. I couldn't figure out why. Until now. I love it and use it daily. For two reasons - 1.) I like to add my photos into VSCO in the order that they appear on my Instagram. Then when I want to post a new photo I can load it to VSCO and see how it looks with the rest of my feed and then decide if it's a good fit or not. And 2.) the C3 and Q1 filters. Those are the only two I ever use.
4 // Facetune
- $3.99 // I use this one mostly for the whitening tool. I like my photos bright and the whitening helps achieve that. I also like the details tool for sharping certain parts of your photo.
5 // She Reads Truth
- free, with in-app purchases // my go-to Bible and Devotional app.
6 // Cartwheel
// For discounts at the best place on earth, Target.
7 // ESPN
- free // I'm a sports girl and like to keep up with my teams!
8 // Bible for Kids
- free // Mason and I both love this app. It's interactive and makes learning about the Bible fun for kids.
9 // Glow
- free // great for keeping up with 'girl' stuff and helpful for those that are TTC.
10 // Color Story
- free, with in-app purchases // this one I am still working with. I like the concept of it, but haven't exactly figured out how to make it work with my photos. I love all of the photos I see edited with this app, though! Do you use it? Any suggestions?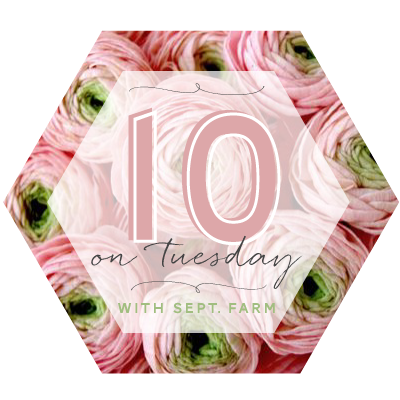 What are your favorite iPhone apps? Any that I must download now?